Enjoy 1-for-1 Burger King® Tendergrill® Chicken upsized meal from 11 – 20 Feb 2019
Wealth SG
Enjoy 1-for-1 Burger King® Tendergrill® Chicken upsized meal from 11 – 20 Feb 2019
Valentine's Day is just around the corner. Take this opportunity to show appreciation to not only your significant other but also your best buddy that has stuck with you through thick and thin.
From 11 February 2019, bring your friend, to Burger King® to enjoy this awesome One-for-One treat whenever you order a Burger King® Tendergrill® Chicken upsized meal.
Our Tendergrill® Chicken burger is served with a deliciously juicy premium chicken thigh patty that's grilled to perfection, topped with a tomato slice, freshly shredded lettuce and layered with creamy mayo to bring out the flavours, served on a soft sesame seed bun.
Each meal includes a Tendergrill® Burger, a medium Coca-Cola and a large fries. Promotion starts from $8.55 and is available at selected Burger King® outlets. While stocks last. T&Cs apply.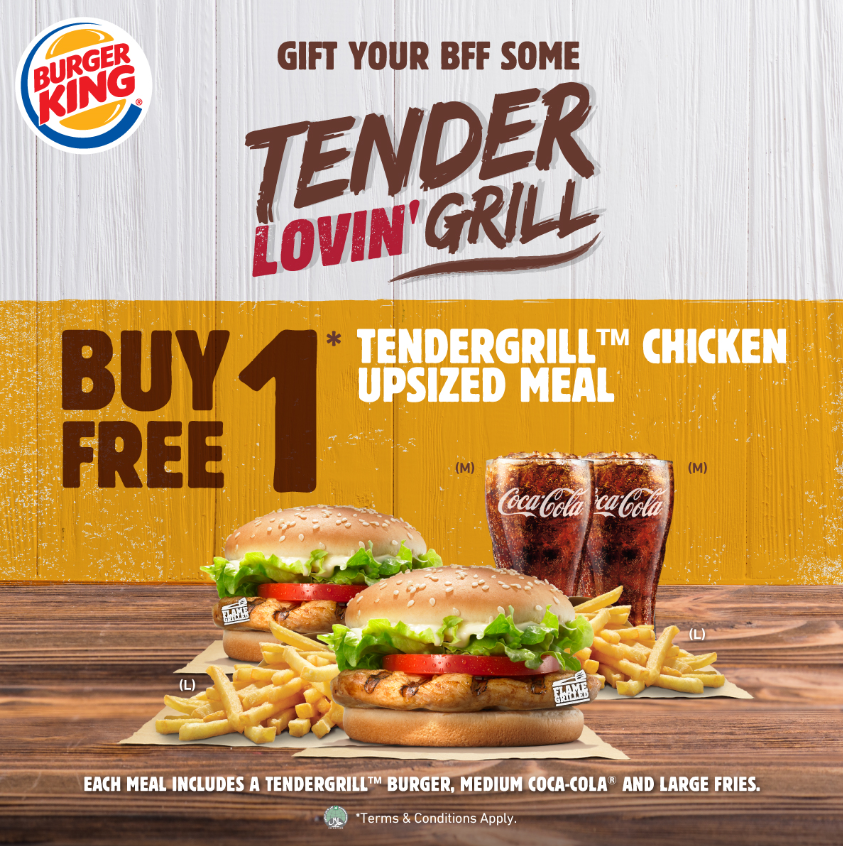 Note: The tentative end date is 20 Feb '19 or while stocks last whichever is earlier.
Terms & Conditions
Promotion is valid from 11 Feb '19 after breakfast hours for dine in or takeaway orders at all stores except Kallang Leisure Park, Singapore Expo on event days & Airport stores. Change of drinks and/or sides is chargeable for both meals. Promotion cannot be used in conjunction with otherRead full content from Money Digest